Chaser's Payment Portal allows your customers to view their invoices and pay directly through Chaser invoice reminders. Below we'll explain step by step how to set up and customise the payment portal:
What is the Payment Portal?
The Chaser Payment Portal provides your customers with a single, transparent place to view and pay for their outstanding invoices.
Once you have set up the portal in Chaser, your customers will be able to pay for their invoices through the portal via credit/debit card or via bank transfer.
Setting up the Payment Portal will help decrease your Days versus Due Date (DvD), boost your cashflow and as your customers have complete visibility of their account it will save you time through minimising the bureaucratic reasons for late payment.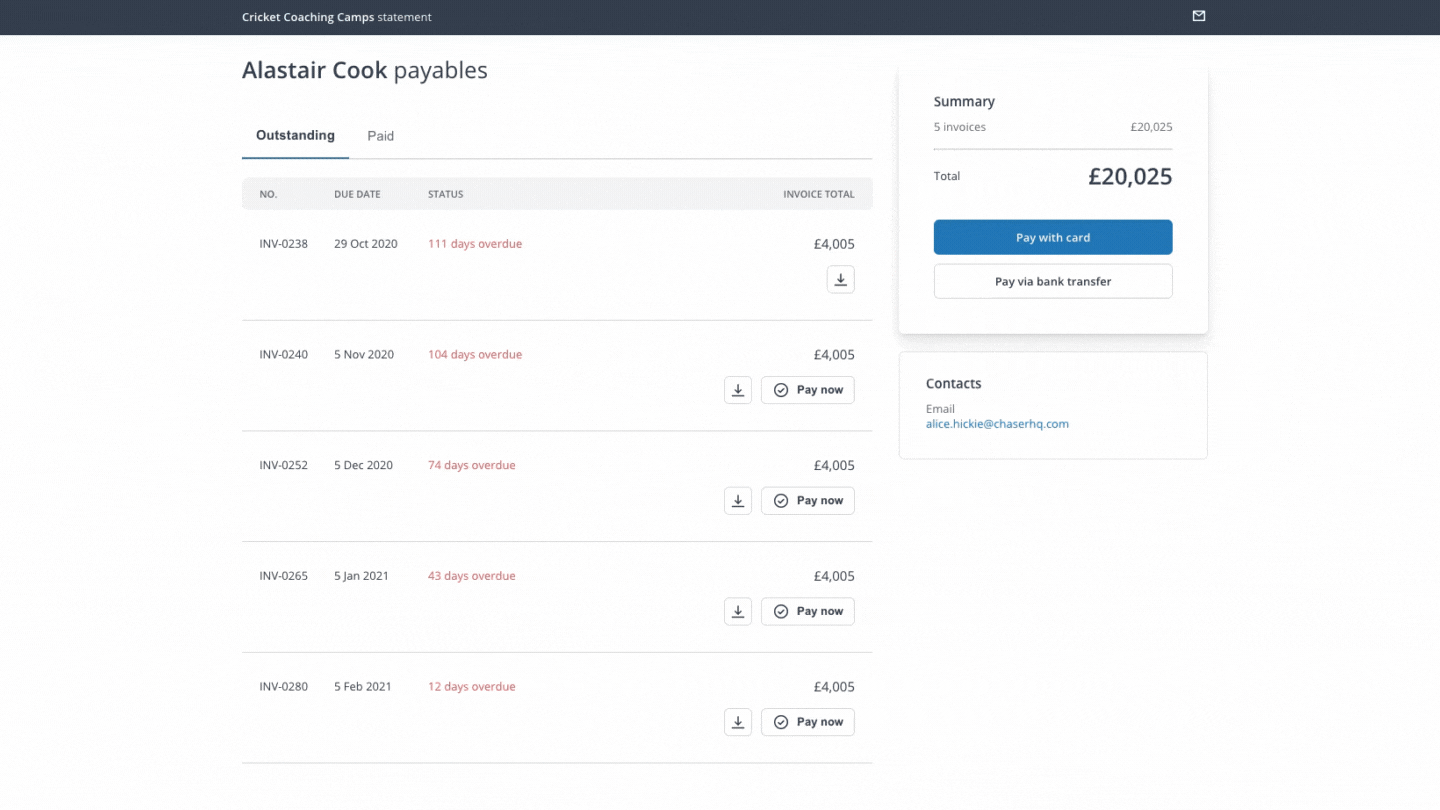 Benefits of the payment portal
Get paid directly through your invoice reminders

Make it easy for customers to pay; gives them access to multiple payment options instantly

Gives your customers complete transparency

Customers can review paid and overdue invoices
and also download a statement

Boosts your email deliverability and open rate through fewer email attachments
Saves you time; giving your customers instant access to their invoices will mean fewer disputes and more prompt payments.



Setting up the portal
To start setting up your payment portal in Chaser, go to the payment portal settings in the Manage tab: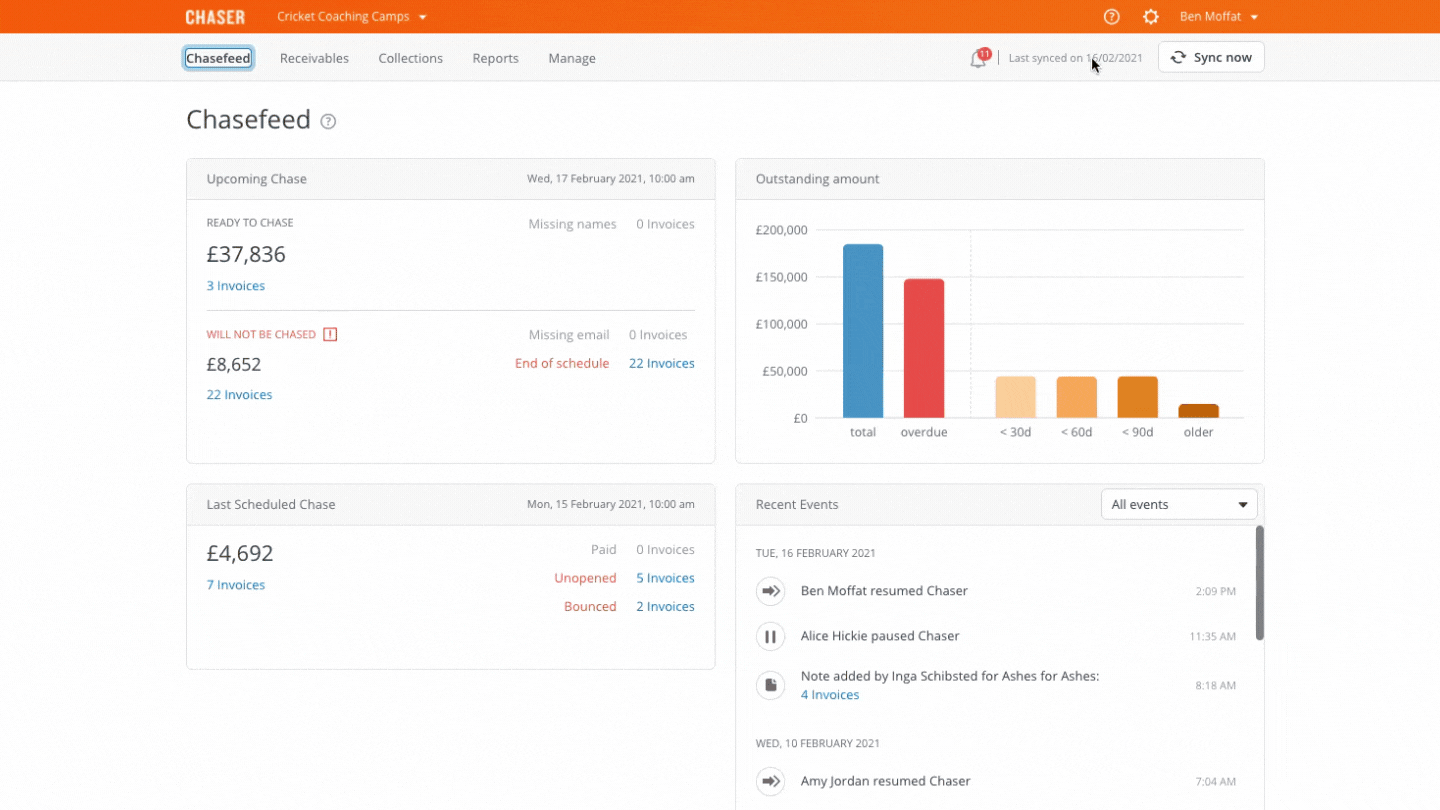 Once you are in the payment portal settings. You can start setting up your Payment Portal. It is very easy to set up and there are only 3 simple steps to setting it up:
Add in your company logo.
Enter your bank details.
Connect your payment platform.
Insert the payment portal link into your templates
Connecting your payment platform


The Chaser Payment Portal allows Xero and QuickBooks Online users to connect a Stripe account. By doing so, you can allow your customers to pay by card, or direct debit (bacs) easily. All payments made via Stripe will be reflected on the invoice in your accounting system.
If you already have a Stripe account, you can easily connect this following the steps below. Alternatively, setting up a Stripe account is very quick and easy to do, follow this link to get started.
Connecting your Stripe accounts is quick and easy:
Click 'Connect with Stripe', you will then be taken to Stripe to login.
Once you have logged in, fill out all the relevant information.
Click 'Authorise access to this account'.
Once you have connected your payment platform to your Chaser payment portal, your customers will be able to pay for their invoices via credit or debit card directly through the portal. **
Multiple currency support
If your organisation has customers who pay in different currencies, the Payment Portal will ensure that invoices payments are registered in the correct payment accounts. Simple click 'Add payment account' to add your additional accounts, at one account per currency.
I have connected multiple stripe accounts, what will my customer see?
In order to ensure that the correct invoices are paid into the correct accounts, you customer will see the following behaviour when in Payment Portal, where multiple stripe accounts have been added:
1. Selecting to pay a single invoice or multiple invoices in the same currency with a connected stripe account
The customer will see a 'Pay with card' option and be able to make the payment via stripe
2. Selecting to pay multiple invoices in different currencies (with connected currency accounts)
The customer will see a 'Pay with card' option but this will be disabled
3. Where all invoices are in a currency that are not supported
The customer will not see the 'Pay with Card' button in the payment portal
Using your portal
Once you have set up your payment portal, you can start sending the portal to your customers straight away. There are two ways to share a payment portal with a customer:
By copying the portal link from the customer's page in Chaser:

By inserting the portal link into your Chaser templates: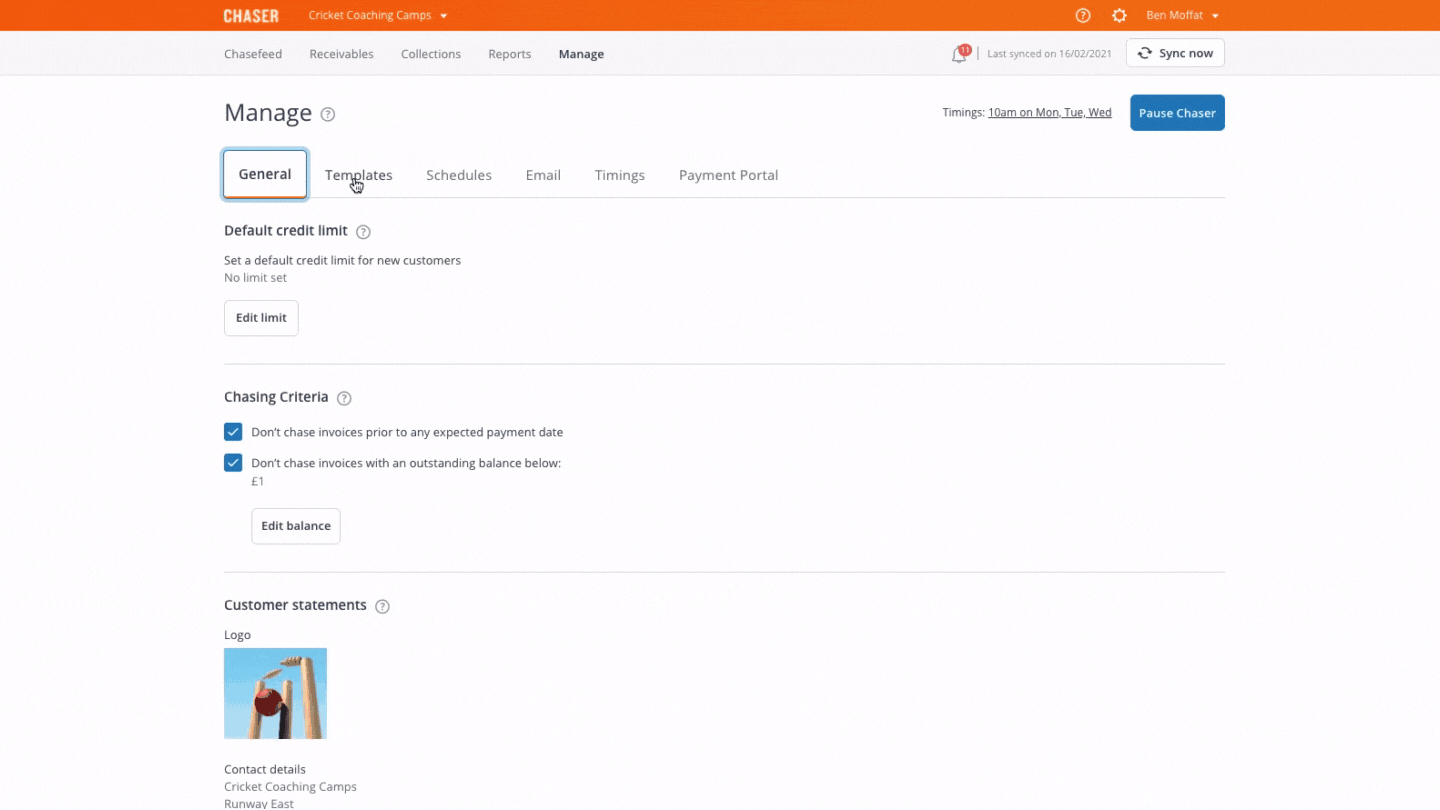 If you have any feedback on the portal or if there is anything else you would like to see on the portal, we would love to hear from you. Feel free to get in touch on support@chaserhq.com or on live chat.
** On top of the regular fees that your payment platform charges, Chaser charges up to an additional 0.5% per transaction.
The Stripe connection is only available for Xero and QuickBooks Online users.