Chasers: Editing a schedule
You can edit chasers in Manage > Schedule > Edit schedule
Creating a chaser
You can add a chaser (an automated email) to a schedule using the + button below the section you wish to add it to (before due, after due, paid).

This will open some options to personalise the chaser:

Select how many days before or after the due date the chaser should be triggered. Once an invoice reaches this increment, the associated chaser will send on the next scheduled chase day.
Select the template to be sent if a customer has one invoice
Select the template to be sent if the customer has multiple invoices*
Select who from your organisation will be the sender (see more about normal and escalated senders here)
Select who in your customers' organisation will receive the chaser (see more about normal and escalated recipients here)
Confirm this chaser and add it to your schedule
Cancel the addition of this chaser
*multiple invoices group in chasers to give the emails a more human feel. Read more about how this works and how to optimise your grouping here.
Create a repeating chaser
To create a repeating chaser select your final chaser in the overdue section. Then enter the frequency with which you would like this to repeat in the 'Repeat every X days' section.
You can also choose how many times this chaser will repeat by checking the 'Repeat limit' box and entering a quantity. If you would like this chaser to repeat indefinitely leave this box unchecked.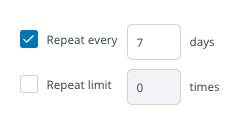 Deleting a chaser
You can delete a chaser by clicking anywhere on a chaser's row to open the edit tab and selecting 'Delete'.

Paid chasers
If there is a 'Paid' chaser in a schedule, an email thanking the customer for paying will be sent automatically on the next weekday at your normal chase time.
This means that if your chase time is set for Fridays at 10:00 and an invoice is marked as fully paid on Tuesday, a "thank you for paying" email will be sent on Wednesday at 10:00.
"Thanks for paying" messages will be sent not only for invoices that are set to be chased but also for invoices that are set to 'not chasing' if their associated customer is set to 'chasing'. This means that even if you do not wish to chase the invoice before it has been marked as paid, an acknowledgement of the payment will still be sent to your customer on your behalf once it has been marked as paid.
To add a paid chaser scroll to the bottom of your schedule and select the +. Personalise this with your 'Thank you for paying' and 'Thank you for paying multiple' templates.