Get paid faster and seamlessly manage your payments within Chaser with Chaser Pay.
How will my customers make payments?
Set up your Chaser Pay account and include a link to the payment portal within your email and SMS templates. Your customers will then be able to view their unique payment portal via their unique link. Here, they'll see all the instant payment options that Chaser Pay offers including card payments from all major card providers, Apple Pay, Google Pay and instant bank transfers provided via open banking. They'll be able to pay single or multiple invoices in one go.
How can I see what's been paid?
Access all the relevant payment information in the Chaser Pay dashboard within Chaser. All transactions are displayed and the filters can be used to search for specific transactions.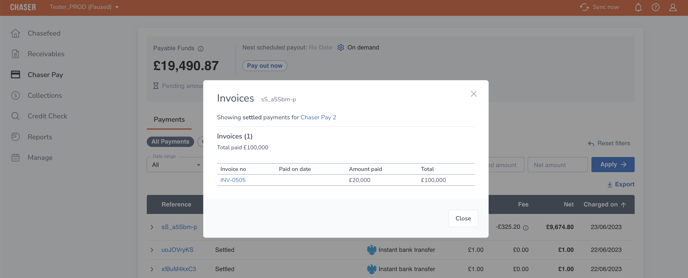 Your invoices will automatically be marked as paid in your accounting system (Quickbooks or Xero). The Chaser Pay dashboard provides all of the details (e.g. fees) required to complete your reconciliation.
How quickly can I start taking payments?
You can start taking payments as soon as your account has been approved and you have selected a payment account.
How long will it take for my account to be set up?
You'll wait a maximum of 48 hours for your account to be reviewed, though you'll normally be approved within a few hours.
How do I withdraw my funds from Chaser Pay?
You can withdraw your funds instantly or schedule regular payouts easily.
Pay out funds instantly:
Go to the Chaser Pay dashboard and select Payout now.

Check the bank account and recipient details and select Next.
Select Send Payout.
Schedule a payout:
Select Schedule Payout.
Choose the frequency.

Daily payout - your funds will be withdrawn on a daily basis
Weekly payout - choose the day of the week that you want your payout to occur
Monthly payout - enter the day of the month that you want your payout to occur

I am currently using Stripe, can I enable Chaser Pay instead?
Yes. In order to connect Chaser Pay, you will need to disconnect your Stripe account as only one payment service can be supported per Chaser account.
Will I be notified when a payment has been made?
Yes, you will receive an email each time a payment is made. However, if you do not wish to receive these emails you can switch these off in your account settings