Filter, sort and manage all outstanding invoices from the Invoices tab in the Receivables page.
The invoice page can be accessed via the Receivables page by clicking on the invoice number.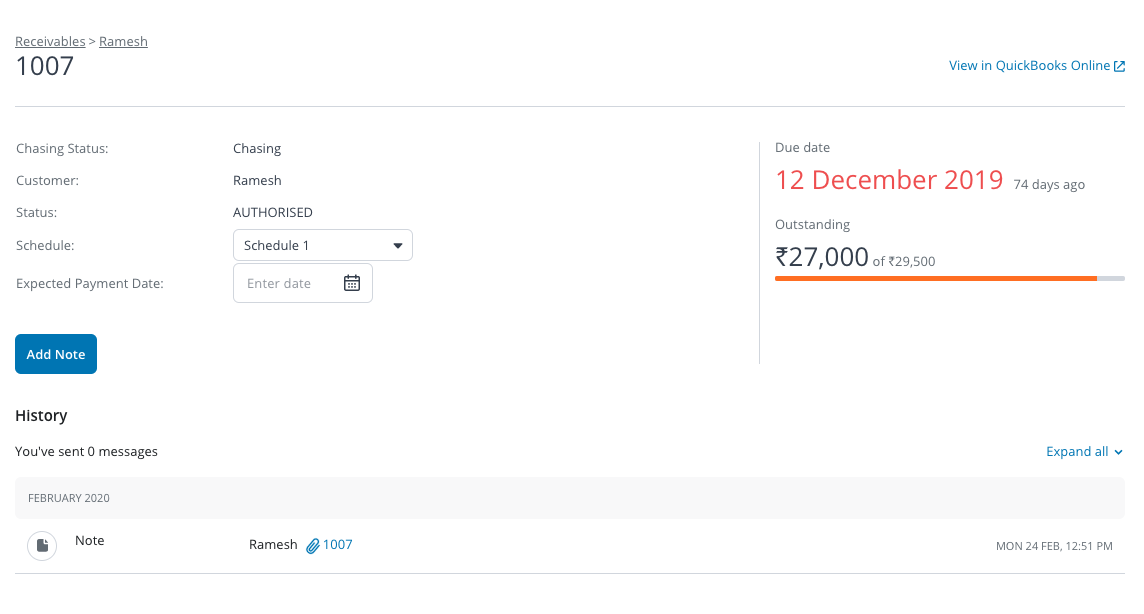 This page provides you with up to date invoice information including; the initial value of the invoice; how much money is still outstanding; which schedule the invoice belongs to; who the customer is and how many chasers you have sent.
Expected payment date
You can set an expected payment date for your invoice using the calendar symbol:

This will open the calendar module and select the relevant date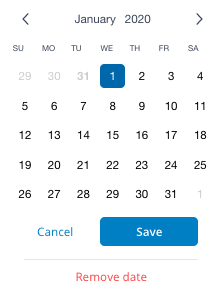 You can also alter or remove an expected payment date.
If the 'Don't chase invoices prior to any expected payment date' box is checked in Manage > General, this invoice will not be chased prior to this date: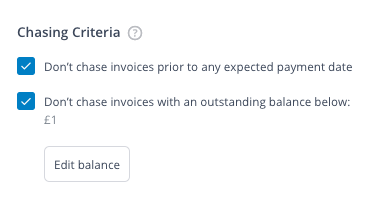 To find out more about Chasing criteria you can find the help-centre article about this here.
For Xero users
If using Xero as your accounting system, the expected payment date will push into Xero and be saved against the relevant invoice. However, there are cases in which this will not be possible:
The invoice has a part payment, prepayment or credit note applied against it within your accounting system
The invoice was created within an active 'lock period' within your accounting system
If these cases occur, the expected payment date will be saved within Chaser but NOT updated in Xero. Chaser will notify you of this.
Notes
You can add notes straight from this screen. This will remain attached to the invoice until it has been paid. To do this select the 'Add Note' button and enter your comments in the note module. Click 'Save note' to confirm.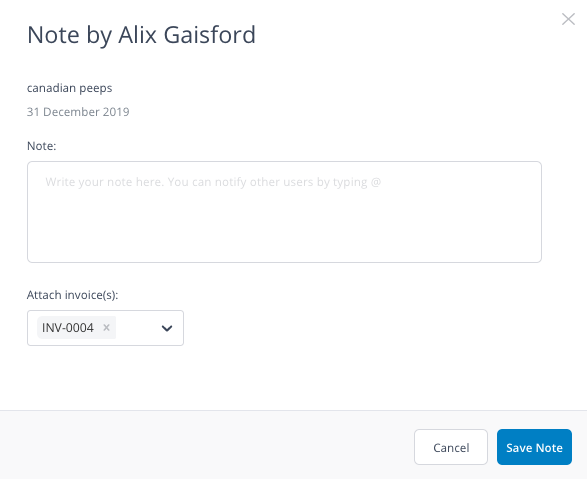 To attach a note to multiple invoices use the dropdown menu under 'Attach invoices' and select the relevant invoices.
History
The invoice history refers to all the conversation that has been sent through Chaser regarding this invoice. We automatically save the chasers and statement emails that you send and all the subsequent replies and responses in the thread. You can consult the conversation history at any time.
To view any part of the history, click on the row you wish to expand: