Filter, sort and manage all outstanding invoices from the Invoices tab on your Receivables page.
Access a specific invoice page via the Receivables > Invoices page or the specific Customer view by clicking on an invoice number.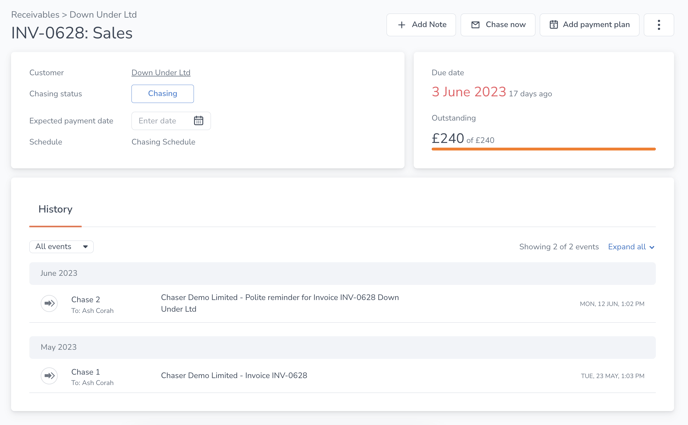 View up-to-date invoice information including:
Customer
Chasing status
Expected payment date
Schedule
Initial value
Outstanding value
Chasing history including sent and received emails and notes
Action any of the following:
Set an expected payment date
Change schedule
Change chasing status
Add note
Chase now
Add payment plan
Dispute invoice
Download invoice
View in your accounting software
Learn more about Chasing criteria here.
For Xero users

Your expected payment date will push into Xero and be saved against the relevant invoice. This won't happen if:
The invoice has a part payment, prepayment or credit note applied against it within Xero
The invoice was created within an active 'lock period' in Xero
The expected payment date will therefore revert to the original expected payment date after being saved in Chaser and will not push through into Xero.
Notes

Add notes straight from this screen. Notes remain attached to invoices until they're paid. Select the 'Add Note' button and enter your comments in the note module. Click 'Save note' to confirm. Set a reminder notification using the calendar module.
Attach a note to multiple invoices using the dropdown menu under 'Attach invoices'. Select the relevant invoices.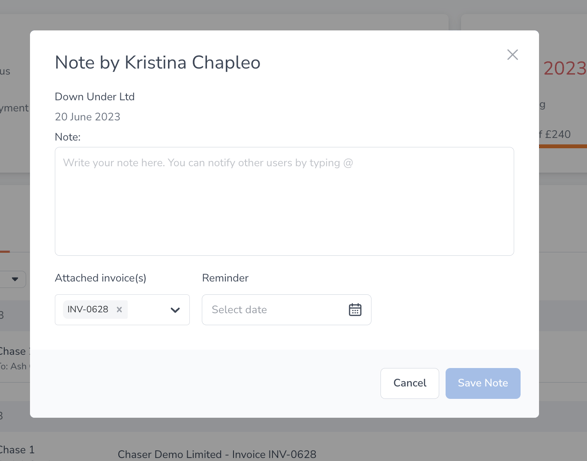 History

View all invoice history including notes, automated and manual chases, monthly statements, 'Thank you for paying' emails and customer responses regarding this invoice. Consult the conversation history at any time.
View the detail of each event by clicking on the row you wish to expand.