Learn how you can ensure you're chasing in the most effective and economical way.
You can use your schedules to ensure
Using 'End of schedule'
The default schedule in Chaser when you first join has perpetual chasing switched on. This means customers and invoices in this schedule will be chased on an ongoing basis unless a repeat limit is set. We recommend setting a repeat limit or switching off the repeat option. This can be done by ticking/unticking the relevant tick box and choosing a limit.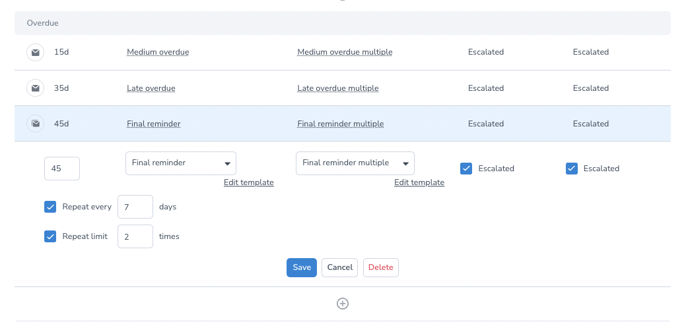 This avoids perpetually chasing invoices which have already been chased over an extended period, and are now unlikely to be paid via repeat chases. This reduces the number of invoices chased if you have a large number of aged unpaid invoices. You will receive an 'End of schedule' notification within your forewarns in addition to these being displayed on your ChaseFeed.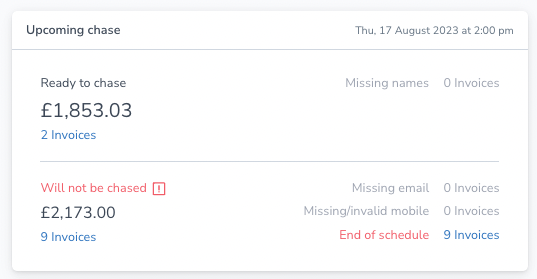 When an invoice reaches the end of its allocated schedule, we recommend escalating it to a debt collections agency. UK customers are able to use Chaser's in-house, 'no win, no fee' Collections service from the Collections page and within your Receivables area. Learn more here.
Intelligent schedules
If you're on a Standard plan or above, you can set multiple schedules. We recommend using the Payer ratings to help inform your approach and the schedule relevant customers should be in. Before-due reminders are great to encourage payment from bad payers. You may choose to remove these from your schedule for good payers. This means that a chase would not be sent if an invoice was paid on time, reducing the number of invoices chased.
Monthly statements
Monthly statements don't count towards your invoice chasing quota, in the same way as Thanks for paying emails. You may wish to send only monthly statements to certain customers, such as those that pay by direct debit via the Chaser payment portal (UK only) or another payment provider. We always recommend having monthly statements active in chasing schedules, too, to provide an overview of customers' accounts.
Learn more about invoice overage charges.