Read below to how to pause and resume Chaser to stop all chasing activity and to pause the sync with your accounting software
Whilst your organisation's Chaser account is paused, we won't send any chases to your customers and Chaser will stop syncing with your accounting software. All newly created Chaser organisations are paused as standard, this gives you a chance to set up your account. You can then use the pause function going forward if you are on annual leave and don't want to chase emails to be sent out.
To pause Chaser go to the Manage page and click the "Pause Chaser" button.

This will open a dialogue box and prompt you to optionally enter a resume date or pause Chaser indefinitely. Setting a resume date will cause Chaser to automatically unpause at midnight the morning of the selected day - meaning that chasing will resume on that date if it's one of your regular chase days. Enter a resume date or choose to pause Chaser indefinitely and select 'Pause Chaser'.
Pausing indefinitely will mean Chaser is paused until you unpause it manually.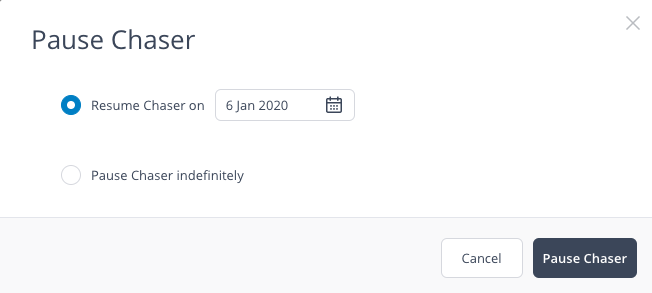 Paused accounts will display a dark bar to indicate that no chases will be sent.

If, at any time, you want to change your resume date, simply click "Change date" and you can input a new resume date. Alternatively, click "Resume Chaser" at any time to unpause immediately. once resumed, chaser will send again at your next chase day and time.