Mark invoices that are 'In dispute' in Chaser for faster reporting, and to assign invoices to the correct schedules.
What does disputing an invoice mean in Chaser?
Disputing an invoice in Chaser allows you to flag to you and your team which invoices have been disputed by your customers.
When you mark an invoice as 'In-dispute', you are then able to filter by invoices that are in-dispute in Chaser. You can also see the dispute on the history on the Customer and Invoice page.
How to mark an invoice as in-dispute?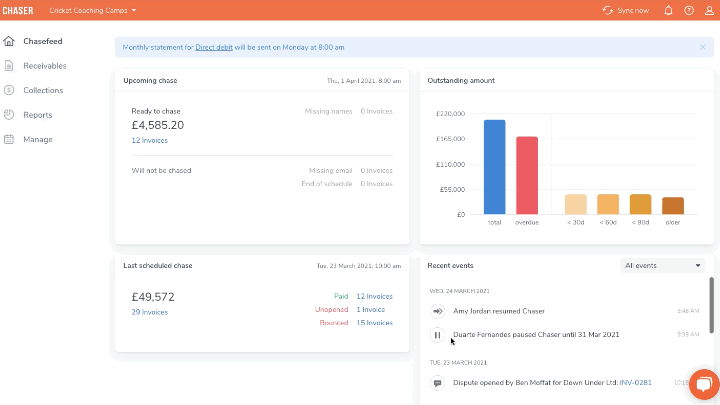 To mark an invoice as in dispute, you can follow these simple steps:
Find your way to the Receivables tab and then onto the Invoices tab
Find the invoice you would like to dispute
Click the three dots on the right of the invoice and click 'Dispute'
Choose the dispute reason, put down any relevant notes and then click 'Open Dispute'
Why mark an invoice as in-dispute?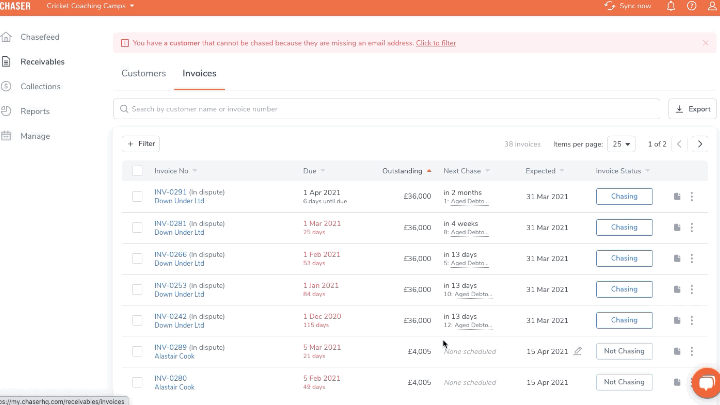 Marking invoices as in dispute means that you can save time and easily categorise the invoices that are causing issues and need attention.
Once you mark invoices as in dispute, there are a number of workflows that you could use to save you time and provide faster reporting, for example:
You can filter by disputed invoices in the Receivables tab and then assign these invoices to a new schedule called 'Disputed Invoices'. You could also stop or start chasing those invoices in bulk or give the disputed invoices an expected payment date in bulk.
You can filter the invoices by disputed invoices and then export the filtered report into a spreadsheet which you can then forward to the relevant parties.
Need support?
For any more questions on Invoice disputing in Chaser or anything else, please get in touch on support@chaserhq.com or message us on live chat, we would be happy to help.