In this article, we will cover how you can upload information into Chaser via the Chase Import feature.
To upload your CSV files into Chaser you will need to set up an SFTP server and then connect that to Chaser, you can follow instructions on how to connect the server to Chaser here.
You will need to upload your CSV files in this format into your SFTP server.
Please note that the data will need to be in the exact format provided, otherwise Chaser will not be able to sync with the SFTP.
Once you have uploaded the data into the SFTP, Chaser will sync with the SFTP before your next chase and pull the updated data into Chaser. If you would like to sync before then, you can log in to your Chaser account and click 'Sync Now' at any time.
After you sync your data with Chaser, if there are any errors with the file that you have uploaded, an email will be sent detailing the issues. These types of email are enabled by default for all users within CSV organisations, however they can be switched off in your user settings if they are no relevant to your role.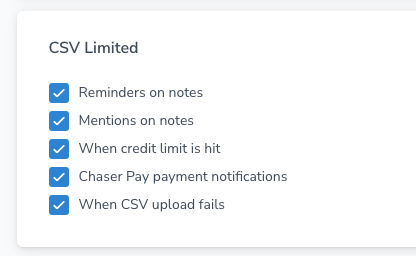 Need additional support?
For any more questions on Chase Import, please get in touch on support@chaserhq.com or message us on live chat, we would be happy to help.